To have an outside tap fitted the cost for this would be between £40 to £150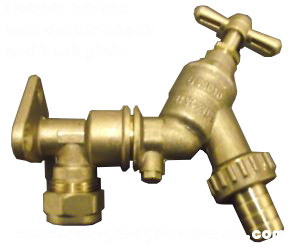 Martin Smith explains, "as an emergency plumber i found it my job to do a survey on how much it would cost to fit an outside bib tap, keeping in mind the cost of the materials, the area, the distance the plumber, the reliability of the plumbing engineer and the quality of the work that is carried out being a DIY job or an expert in the plumbing industry".
How much would it cost for the materials to fit an outside tap?
Supplying the materials for an outside bib-tap can be a little tricky if you don't know an in-depth of the difference and how long this will last keeping in mind the regulations. An outside bib-tap can have different manufacture where some use a different grade and other are more solid. The most experienced emergency plumber may buy the highest quality bib-tap, where a plumber who buys a few outside taps from maybe an online source where the taps are cheap and most likely nasty. The best place to buy is a local plumbers merchant as long as there buying quality also.
What is the cheapest outside bib-tap I can get fitted?
The cheapest way you can have a tap fitted rather than getting an emergency plumber or a general plumbing engineer is to either buy a tap online, a car boot sale or just some place they are selling cheap taps. To find a cheap outside tap then all that has to be done is the research online. As long as you have a 15 to 18mm drill bit, general amount of plumbing tools and the materials to fit the tap then this should take between 90 to 240-minutes depending on DIY experience. To have your tap fitted within the 90-minutes then our advice would be to have a professional plumber.
What are the regulations to fit an outside tap?
To fit a bib-tap the regulations are not as simple as most people this which is the reason an emergency plumber or a general plumbing engineer should do this type of job. So Martin Smith one of the most experience plumbers in the UK will explain what the regulations and the correct way to fit an outside tap or what is known as a bib-tap.
Make sure the water is turned off and the location of the tap is known.

Find a good pipe to connect to after the mains water stopcock.
The first valve to the outside taps is an isolation valve followed by a non-return valve unless incorporated in the outside bib-tap.
Make sure there is sufficient lagging but not essential as this is not regulated.
If you follow these guidelines then you are most of the way there.
If you require a plumbing estimate for a outside tap then feel free to ask us.