Leaking Appliance – Is it the job of an emergency plumber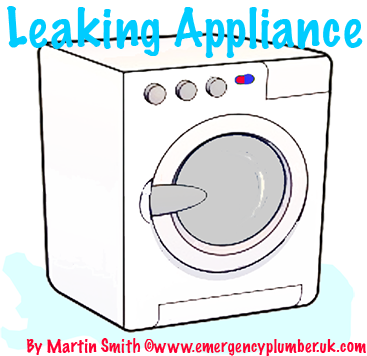 Got a leaking appliance and unable to stop the water leak? Need an emergency plumber or an appliance specialist? Maybe you can't decide and don't know where to look!
Having a leaking appliance can be a common water leak when it comes to within your home, the problem is, the occupant some times doesn't know on who to call. Is it a leak from within the washing machine or is it a leaking pipe from behind. Unless your able to pull the washing machine out, the chances are, you may never find out, unless you call upon an emergency plumber.
If I have a leaking appliance, can an emergency plumber come and fix it
A question asked to plenty of emergency plumbers about the leaking appliance being fixed. So many times an emergency plumber has to turn them down and say, "your going to have to find an appliance specialist". The occupant then asks "who do I call?". With the response from the plumbing engineer of, "I think you need to call a washing machine specialist". With no help at all, the customer then carries on calling around emergency plumbers.
It's not the first time a occupant has called an emergency plumber to come out and fix a leaking appliance and for the plumber to turn up and say "I can't do that" and it won't be the last time a occupant calls out an emergency plumber.
The best thing a customer can do when there appliance has a fault or a minor leak on a normal day for example: If your washing machine is not working then you would put in the search engineer 'washing machine repairs' followed by your local town. If your dishwasher isn't working, then you would search for 'dishwasher repairs' followed by your local town. You may also want to do a more direct approach by putting in 'electrical appliance repairs' followed by your local town.
When does a leaking appliance become an emergency plumber situation
The only time, when a leaking appliance becomes an emergency plumbing situation is, when the customer is unable to get an immediate appliance specialist or unable to turn the isolation valve off to the appliance. Due to the ability to turn off the appliance in an emergency, it is very common, that an occupant will call an emergency plumber to come out and just isolate the water supply in an emergency.
Unfortunately when looking for an appliance specialist 24-hours or in an emergency, you will be unable to find one, the only thing that can be done, is to isolate the appliance and leave until it is convenient for the appliance specialist comes and has a look.
If your looking for an emergency plumber to come out due to your leaking appliance, then please give us a call on the above number. If your an emergency plumber that can take on leaking appliances, maybe you want to just isolate or even work directly on the appliance, then please take a look at the plumbing register.