Nail Through Pipe Problems & Procedures Includes Screws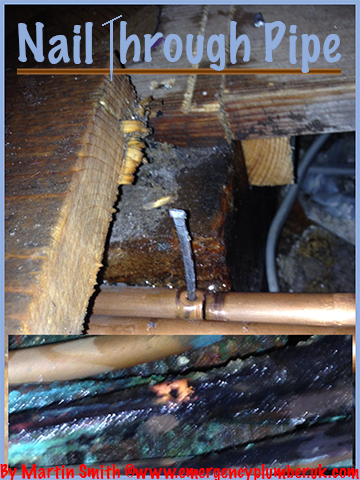 How many times do fellow emergency plumbers listen to those saying I've put a screw or a nail through pipe. For an emergency plumber it seems to be like a fashionable thing to do, but for us occupants and our DIY situations, it's the worst thing we can do, causing plenty of more damage on the way.
Martin Smith, an experience 24 hour plumber gets all types of calls and one of the most common water leaks with water coming through the ceiling is due to a screw or a nail that has gone through the pipe.
To the right of you in the picture is a typical nail, that has gone through a copper pipe. The picture at the bottom is corrosion from a copper pipe, due to a nail that has been left for a long time, eventually turning out to be an emergency plumbing issue. Continue reading →