What is the difference between the boiler warranty vs guarantee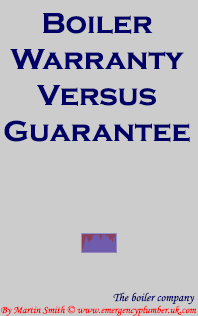 Before explaining about the difference between what the boiler guarantee and the boiler warranty in Martin's opinion, there will be a little about the author.
Martin Smith is a fully qualified gas engineer who is also a specialist emergency plumber and most importantly gas safe registered and has only recently learnt about the difference between the warranty and the guarantee.
Just below are some common questions asked and further down are some paragraphs that will explain what people ask with hopefully the answer  to what you will be looking for.
Please remember to use a gas safe register engineer and have your boiler fitted correctly. If you follow these instructions, there should be no reason why you will need a guarantee where the warrantee will be much better. Continue reading →