What is the best plumbing paste I can buy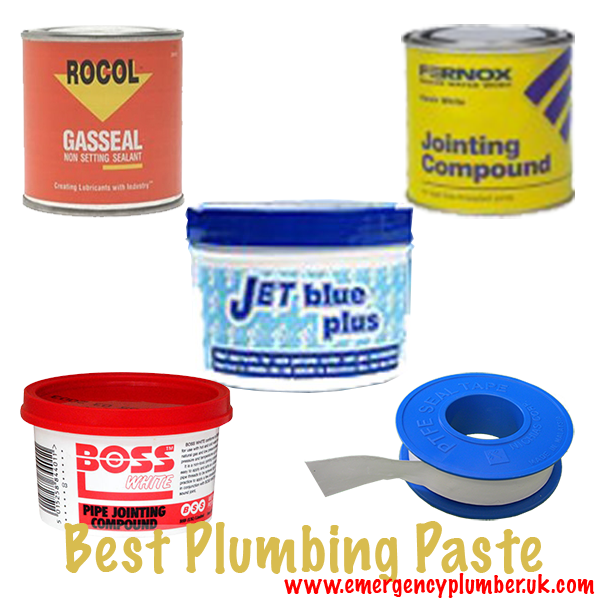 Martin explores a debate between the different best plumbing paste that is out there. Some like to think they can just use PTFE and other just think as long as it is a paste that it's ok. Well I guess in some instances that as long as you use it for what it say's on the tin then it's ok. WRONG! As long as the paste has worked the first time then the chances are that it will last for the time of the guarantee period. Some pastes are hard to use well other types of paste will set quickly and go hard. There are pastes that never set but do the job to what you want it to do. Martin Smith an emergency plumber has is own opinions on what is the best plumbing paste out there and yes it can also be used with gas.
What is the name of the best plumbing paste
The name of the best plumbing paste in Martin Smith's opinion is the Jet Blue Plus. Not because it's the only paste Martin has used but is the opinions of a majority of emergency plumbers on a national basis.
Here are some other pastes below:
ROCOL – Rocol Gas Seal comes in a 300g tin and is use only on gas and LPG. It's been test by BSI and conforms to BS EN 751-2: 1997 Class B. The plumbing paste is resistant to vibrations and it a non-setting paste.
LS-X External Leak Sealer – Great on compression joint, does not set, ready to use with no mixing, can be used below and above recommended temperatures. This pruct is completely safe for drinking and is WRAS approved.
Hawk White is a pipe jointing compound and is available in a 200g and 400g tin, unfortunately this is not WRAS approve however if you use a similar product call Water Hawk which also comes in similar tins, this is WRAS approve and can be used with hot and cold drinking water.
PTFE – PTFE is a tape that is used in drinkable areas, you can also use a gas PTFE on gas products, however this does not come as a paste and may not be as good with some products but best with others.
Gimme The White Stuff – The product was mentioned and comes in plenty of different sizes however there was no mention of being WRAS approve but can be used on plumbing, heating and oil field threaded pipe. Gimme The White Stuff is believe to be more PTFE based for a thread sealant and is suitable on ABS & PVC.
Boss White – This product is not to be on portable appliance and is only used on heating with or without hemp. If you want a product made by Boss for your portable needs then you should try Boss Green.
T Plus 2 is made by Rectorseal and is a rich PTFE bases sealant and con taints synthetic fibbers to creat a stronger seal. This product can be used on ABS pipe, CPVC, PVC, stainless shell, aluminium, copper, brass, iron and galvanised steel. This does not need a setting time and can be used immediately. There is no mention of gas products or being WRAS approved.
Jet Blue Plus – Finally we have what we believe to be the best plumbing paste product which is known as Jet Blue. As far as Martin knows, Jet blue comes in different size and may look different depending on which plumbers merchant you are buying from. Jet Blue must be careful used and must stay away from eyes, it doesn't dry hard and stays in a nice Butterly state. Jet Blue has been voted the best by 16 independent sole trading companies due to it's ease of use, it's reliability and the fact that it, is approved by WRAS and can also be used on gas products.
Do I have to use any plumbing paste when it comes to plumbing
If you decide you don't want to use the best plumbing paste or any other paste including PTFE then this is ok as the product do come with a guarantee even if you don't want to use them. The problems you will come up against for example is that if an olive has a slight ripple that is unnoticeable and you are filling up a central heating system and all of a sudden there is a leak then you may think to yourself. This is another 2 hours on the job. Some plumbing engineers don't think about using any paste and just repair the problem but if you use a paste then the seal would be much better and you won't need to worry as much. Having paste on the joint of the fitting will ensure you get a longer live to the fitting knowing you in capable hand of a good plumbing engineer.
One of the biggest mistake Martin Smith find in the plumbing industry is that when either a builder of a DIY plumbing job is doe that the occupant of the house will PTFE the thread of all thread and place the nut on the fitting. This makes the job hard and can make it more easier the cross thread. In allot of cases it ends up in the occupant requiring an emergency plumber.
If your unsure it may be a case of asking Martin Smith a plumbing agent for over 400 engineers to recommend you a plumber nation wide rather than the work turning into an emergency plumbing situation. There we will get you an engineer who will most like use the best plumbing paste or any other which is suitable for the work.
If your a plumber and want to register with us then feal free to send us an email requesting to be included in out register at emergencyplumber@me.com