Which is the best shower to have in my home in 2014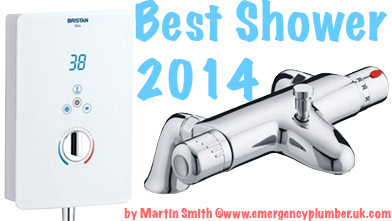 Getting a new shower soon or in the future and wondering which is the best shower 2014 to buy. Martin Smith an emergency plumber explains with experience when picking the right shower for when it really matters. For many years, having the best electric shower or having the best mixer shower has been a choice by many going wrong. It is very important when buying a shower that, it become an essential, just incase of the worse scenario was to happen. It may be looks your going with. It may be a practical thing the reason your buying a shower for. It could also be a cost thing in todays economy. Having the best shower can also be the cheapest, but all depends on what system and is it really practical.
What do I need to do to determine what is the best shower
To determine what is the best shower 2014, you have to think about the water system that is within your home. Have you got a hot water storage tank in the loft, feeding plenty of water pressure. What size is the tank and could you have a water pressure pump fitted. Have you got a combination boiler and no back up of water storage. Do you have no loft space or any space at all as it comes to that matter. Do you require a shower coming directly from the mains water supply.
I have a combination boiler, what is the best shower I can have
If you have a combination boiler and your wondering on what is the best shower to buy. In Martin's opinion, the best shower 2014 would be an electric Bristan shower and as long as you have enough water pressure, say 9-litres or more per minute, use a shower at 9.5-kilawatts or more. This will ensure, if the combination boiler was to fail, leaving you with no hot water up to a week, then at least you have a nice hot shower to fall back on to.
If your unable to pay for an electrical shower or the installation of the electrical shower, then at least buy a shower that can replace your bath taps, making it a combination bath taps and shower all in one at about £50. or even stretch you budget to a Bristan shower mixer and taps all in one.
The only down side, if you have poor water pressure with a combination boiler, is that, if the hot water was used in another location of the house, then the shower will go cold leaving the person within the shower very frustrated.
I have a tank in the loft and a hot water cylinder, what is the best shower
The perfect solution to having the best shower, is not having a combination boiler, but having a water system, where you rely on gravity fed water. There are all types of thing's you can do when you have gravity fed water. Just below is a list of them in order to find the best shower 2014 that suites your needs.
Electrical mains water feed shower
Mixer shower of either cold mains and hot water gravity.
Mixer shower with both gravity fed pipes.
Electrical shower with pump.
Power shower.
Mixer shower with pump and both feeds coming from cylinder and tank.
With the electrical mains water feed shower, you will get mains water pressure. If you have poor water pressure, you can either rely on a booster pump or use a gravity fed system with a special pump. If you have great water pressure with your electrical shower, then you could have a 9.5-kilowatt shower of more.
You could go with the mixer shower combined with bath taps, where, one side is mains water pressure and the other gravity fed. It is always best to have both hot and cold coming through gravity, due to balancing the hot and cold water with the hot water storage tank as high as possible to gain as much water pressure as possible.
You could have a mixer shower with a pump, that makes sure that the shower is at a decent water pressure, but to keep within the regulations and guarantee of the shower, you general have to upgrade your water storage tank from a standard 25-gallon to a 50-gallon tank. If you have 2 power showers, then the rule is, that you have 100-gallons of water.
Most importantly, you will require a fully qualified emergency plumber to fit the shower and to make sure that all work is done up to satisfaction, to keep the customer happy and make sure that any guarantee is within the guarantee of installation.
In Martin's opinion, a well respected and experienced emergency plumber is that the Mira Shower has got to be the best shower in the UK and possible the world. Not only is the shower to a good quality, the staff or also easy to talk to.
We have similar articles written last year such as the best mixer shower and the best electric shower, however if you are looking for an emergency plumber to fit you the best shower, then please give us a call on the number above. If your an emergency plumber then please visit our plumbing register and would like to be fitting the best shower 2014, then please do so and we will get you up on our database.