Central Heating Plumber & Gas Safe Engineer
Wondering what the difference is between the central heating plumber and the gas safe engineer then keep reading.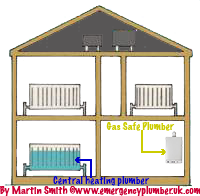 The difference between the gas safe registered engineer and the central heating plumber is, the emergency plumber is not allowed to touch anything gas related that can also cause gas related problems that put the occupants life in danger. An emergency plumber is allowed to turn off the boiler and drain the central heating to deal with any plumbing issues. If the boiler does not work once the central heating has been refilled back up, then all the plumber can do is, check the same setting that any occupier to the house can check themselves. A gas engineer can take the boiler cover off and start doing his diagnostics, which includes checking the operation of the gas valve plus electrical components with the gas boiler.
A central heating plumber can fit a central heating system, however, the central heating plumber is unable to fit a boiler and certify it without the gas engineer to certify the work. It doesn't matter if the emergency plumber or a general central heating plumber has knowledge of any gas related product, the fact is that, there is no proof that the central heating plumber is gas safe. To proof that the gas engineer is a gas safe engineer, he/she has to carry a valid gas safe card. The only way to qualify for a gas safe card is to do the complete course and pass any tests. Once you pass the test you will then have no choice but to become a member of the gas safe register. Every so often for example 5-years, a gas safe engineer will have to go through a test to proof he is still gas safe, as bad habits can start to happen, but old information can chance. As gas regulations change, the gas safe registered central heating plumber will become unaware if they don't keep up with the changes. This means they have up until the date to proof that they are gas safe before there card runs out.
So before you start searching for a central heating plumber, make sure why you need a central heating plumber and know what work he we need to under take so that your work can be completed in order to have your central heating working without any plumbing issues or problems.
It is widely known that general emergency plumber will attend a plumbing emergency and the customer always thinks they are gas safe central heating plumber without checking fully if they are gas safe register at all.
If you would like us to recommend a gas safe registered engineer to work on your central heating system instead of a central heating plumber then please give us a call on the above number. If you would like us to recommend just a central heating plumber then still give us a call. If your an emergency plumber that would like central heating plumbing related work or maybe your gas safe register engineer that would like to be recommend gas jobs, then please visit our plumbing register.