What Emergency Plumbing Tools Should A Plumber Have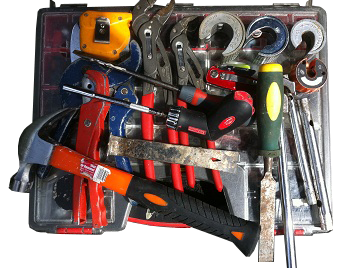 When attending a plumbing emergency it is very important what the plumber should carry on his van for emergency plumbing tools. One of the biggest arguments for the customer explained by a customer we come across for example: "the plumber turned up with a hammer and screw driver but no other tools and all he wants to try and do is turn my water off. The problem here my mains stopcock has no handle and the mains water outside is shared with the neighbour". This is an example of similar stories and all what has happened here is that the customer has wasted there time and in every second goes by, the higher the cost of the damage to the property.
The reason for this article is to make those plumber aware of what tools are required to stop a leak as a beginner plumber, going on to the more reliable plumber on what can be achieved and last of all, the type of tools you could have if your to save the time it takes to fix the leak or make any repair. Just below we have a list of emergency plumbing tools.
List Of Emergency Plumbing Tools
Beginners list of plumbing tools in an emergency
Mediam Size Grips.
8mm to 22mm Adjustable Pipe Slicers.
Waste Pipe slicers.
Standard flat and philips screwdriver.
Basin Spanners.
Sink Tap Spanner.
Hammer.
Wench.
Stanley Knife.
Blow Torch, Solder and Lighting Kit.
Torch.
Mains stop tap key.
Hosepipe.
Plunger and drain rod.
Alan keys.
Steps & Ladders.
Beginners & secondary list for the more reliable plumber.
Rounded Pipe cutters 10ml, 15ml, 22ml and 28ml.
Plastic pipe cutters for Speedfit and Waste Pipe.
Screwdrivers includes Electrical and Allan Keys.
Chisle and Hacksaw.
Basin Spanners + Sink Tap Spanner.
Tape measure.
Mirror.
Electric Drill.
Small Kango.
Bucket.
Silacone Gun.
Tank Bungs.
Drainage Rods.
Immersion Key Spanner.
MDPE clamp.
Adjustable Spanner.
Spare Blow Torch Bottle (YELOW).
Shovel.
Pick.
Here is a list with added tools for a more specialised emergency.
Electric pipe freezing kit.
Pipe freezing kit (spray + sleeve).
Dremol + Kit.
CCTV leak finder.
Pipe Bending Machine.
Wet & Dry Vacuum.
Information On Emergency Plumbing Tools
As you have taken your time to look through these tools there may be one or two missing which we would appreciated you emailing us in order to update the article about emergency plumbing tools. The beginners is the most essential tools you should have if your there to either try and fix the leak or just plainly stopping it to stop any further damage. Just having the basic will get you through most emergency plumbing jobs but not all. The secondary section of emergency plumbing tools is more based on being reliable in the job you are doing and making a repair as long as you carry the correct plumbing materials. THe final list of emergency plumbing tools are tools that can speed up the work in order for the company attending the plumbing emergency that the work is done in satisfactory know that there is no more you could have done.