What does an F5 fault code on a Glow Worm Combi Boiler mean and can I fix this?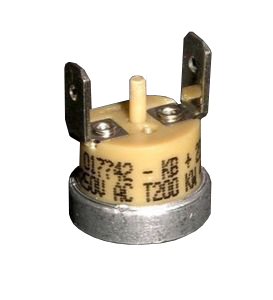 Finding yourself with an F5 fault code on your glow worm boiler and don't know what to do. Here we explain what your able to do without giving too much away, as you most likely will need a gas safe registered engineer. Martin Smith an experienced emergency plumber will explain.
To the right of you is an example of an overheat stat with a button that may be in relations to the F5 Fault code.
What to look for without being ripped off by a gas safe registered engineer
When your boiler goes into over heat mode, which may be due to existing work being done including airlocks in your central heating system. First make sure there is no air in the central heating system, so that the boiler doesn't keep on tripping out. Turn off your boiler for a minute to see if the boiler reset's itself. It is very important to read the manuel to make sure you are doing all the correct thing, but if not and your looking for the quick fix then read on. At this point if the boiler is still not working even though it may still be an easy method you will still need to call out a gas safe engineer as to the reason is, the boiler case will need to be taken off.
What will the gas safe engineer do when fixing a F5 fault code on a Glow Worm Boiler
As explained in the fault manual all the gas safe registered engineer will do is as listed below.
Turn off boiler for a minute or so.
Take off casing.
Press the overheat stat button in (location depends on make of boiler).
If this doesn't work and there is no air in the central heating then there may be further problem which is either with the stat or the PCB board. The only way to fix this then may be with diagnoses and possible with replacing the PCB.
How much would it cost to get an F5 fault code on a glow worm boiler fixed?
If you are wondering how much it would cost then at the minimum you would be looking at £40 to £90 upwards depending on the outcome. As long as there are no other faults then expect in some circumstances to pay about £500. Please be aware on the age of the boiler and if the gas safe engineer advice that there is a possibility going to be more problems then it may be a good idea to buy a new boiler.
If you wold like us to recommend a gas safe registered engineer then give us a call and we will get one out to you within a couple of hours. It is very important to be prepared that you may need a part ordered in order to complete the F5 Fault Code on your Glow Worm Boiler.
Is there anything else to worry about when it comes to getting an F5 fault code?
When getting a gas safe registered engineer it is also very important to make sure they carry a card with there gas safe registered details on and don't be afraid to as for a closer look to make sure the picture on the card is a matching discription to the engineer who is attending. If you have any further suspicions on weather the gas safe registered engineer is what he says he is then we advice you to call the gas safe register.
Check out the Glow Worm Fault Finding Codes.