Leaking Tank Emergency Information & Check List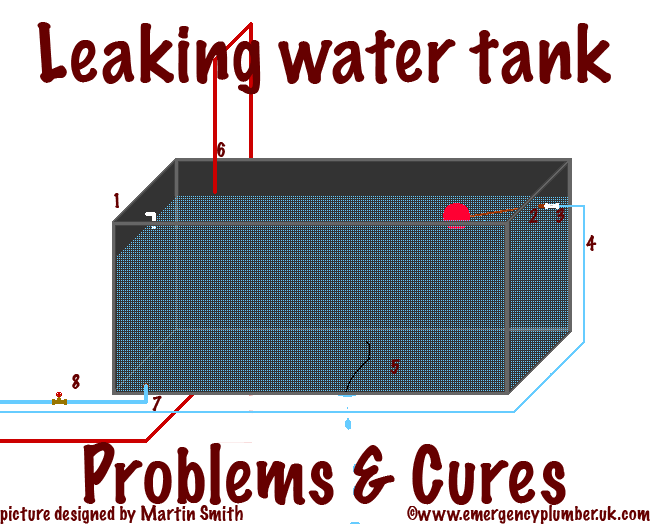 Have a leaking tank emergency and searching for emergency plumbers, then search no more as we are the most recommended emergency plumbing company for recommending plumbers in an emergency. We also include some great information in case of a plumbing emergency if you want to tackle this yourself or just looking for an emergency plumber to attend your property. We include a check list of materials when specialising for leaking tank emergency. We have plenty of information for leaking water tank problems and cures.
Emergency Leaking Tank Information
When in a plumbing emergency and have a leaking tank but looking for the best information to stop your leak, it is always best if you know where your mains water stopcock is. Once you have turned off the mains water stopcock, you can turn on the water taps on the sink, basin, bath and anywhere else you have a hot or cold tap. When the water is off then and draining down then you will able to relax it little more. If you feel that the leak is a fairly easy leak to fix, then have a go but please keep in mind that once you fix the leak there will be no guarantee unless you use an emergency plumber. Most DIY plumbing emergencies are done incorrectly resulting in the emergency plumber coming out. If your going to call an emergency plumber out then it is a good idea to make sure he carries all the correct materials which are list below.
Materials required when you have a leaking tank emergency
15 and 22mm Part 2 Ball Valve plus float.
15 and 22mm Pipe.
Solvent cement glue.
Plumbers gold.
Emergency Washers.
Speedfit.
Compression.
Lagging
What should I do before calling an emergency plumber for my leaking tank emergency
If you have a leaking tank emergency and in need of an emergency plumber then it is a good idea to suggest if they carry the above materials to save time and cost. If you would like us to recommend you any emergency plumbers then please feel free to give us a call an we will get an plumbing engineer to you in a average time of 30-minutes.
Im a plumber and would like to register with your company to attend to plumbing emergencies to fix a leaking tank
If your a plumber and fully qualified then it may be a good idea to place yourself on our recommended emergency plumbers list. You can place yourself on our register by requesting by sending us an email to: emergencyplumber@me.com