Plumber would not fix problem by an Emergency Plumber In London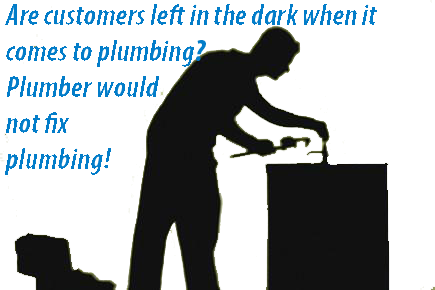 Emergency Plumber in London called to an apartment block in Croydon, but the plumber would not fix problem, customer was very curious to know what her right are. If calling an emergency plumber London, it is very useful to know, what rights the customer has, once the problem has been solved and fixed. As the emergency plumber has to be fully aware and fully qualified enough to stop any type of leak within reason, it is the duty of the plumber, to make sure there is sufficient tools and emergency materials available, as should be carried out as standard stock. Some times, if you live in rural areas, it is not always possible to fulfil the duties of an emergency plumbing engineer, but when living in London, there is no shortage of engineers willing to go further than what there duties entail.
Here are the top 4 question people look for when trying to find the answers to plumber that will not fix or complete a plumbing issue.
Plumbers that don't do there job correctly, what are the customer rights?
An emergency plumber stopped my leak but would not continue any further work, what are my rights?
Why should a plumber complete a plumbing job, once started?
Plumber completed job within 5 minutes, should I have to pay him a minimum charge.
Carl from Croydon and also an emergency plumber in London explains, what the correct procedures are when attending an emergency plumbing issue to fix the customers problem. One example Carl uses is, a tap that is pouring water out at a high rate of pressure. If in a plumbing emergency and your water tap is running at a high rate and all you want is for the tap to be fixed, then it is up to the emergency plumbing engineer to ensure he carries all emergency materials. This does not include a complete tap, but what it does include are; the spares, such as washers, as long as the washer is a standard fit.
How to understand an emergency plumbers duties on plumbing problems and if it is the duty of the plumber, especially in London, is to complete the job
The law of an emergency plumber and the weight in the vehicle means that, the emergency plumbing engineers duty is limited to carrying just the essentials in the vehicle and would explain, why the plumber, may of not being able to fix the problem. It is essential for an engineer to carry all basic plumbing materials and general plumbing tools when attending an emergency. If you are one of the lucky customers and live in London, an emergency plumber is more than likely, going to know, a local plumbers merchant and fix any emergency plumbing issues. So as Carl explains that, the answer to what the plumber's duties are, when the plumber would not fix the problem with the plumbing emergency issue, is that it is the duty of the plumber, to make safe and diagnose whether the job can be complete under the type of circumstance at that time.
If you require an emergency plumber in London or anywhere else in the UK, then please feel free to call us. This was inspired by Carl an Emergency Plumber in Croydon.