Plumbing Advice & Information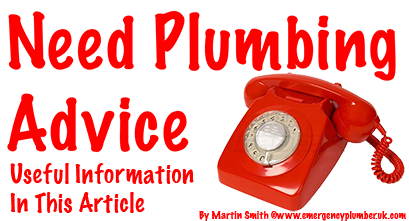 Looking for plumbing advice and information? Then your looking in the right place. Martin Smith an experience emergency plumber may not know everything but will know most everything to do with plumbing. If your a fellow plumber looking for advice then please follow us on my Twitter name plumber24hours or if this is more urgent then give us a call on the above number.
Need Advice On Plumbing
Most occupant need advice on plumbing when it comes to plumbing issue in there home. Some very important issue that are asked as list below.
How long will my central heating radiator last before I have central heating problems?
How to fix a central heating airlock?
My toilet isn't working, what should I do?
I have a blocked toilet but i don't know how to unblock it, any plumbing advice?
My under sink macerator is not working, what should I do?
I have a leaking pipe, do I require an emergency plumber or can this wait until the morning?
My central heating system is leaking, what next, need help?
I have water pouring from the above apartment, do I require the police or do I call the plumber?
My toilet macerator is not working, who do I call and how long will it take for them to call out?
My mains water stop valve is leaking, is this something that can wait or do I require an emergency plumber, any advice?
I have slow water pressure, is there any such thing as a pump to speed up the water flow?
I have no water coming through my sink mixer taps, do I require a new tap?
I need plumbing advice as I don't know what I am doing?
My tank in the loft is leaking water, can this cause allot of water damage?
When doing a plumbing job, do I require special plumbing tools?
I have just had my plumbing done and may need inspecting, is there any such thing as this?
I am doing my own plumbing, how do I know if I am doing the right thing or is this going to turn in to a major plumbing disaster?
I have noisy plumbing issues and may need some plumbing advice, who do I turn too?
I need plumbing advice on my hot water as I don't think the water is hot enough but not sure?
As list above about plumbing advice and what requirement you need in your home. Getting the correct plumbing advice is very important but more important getting it from the right people. It is an opinion of Martin Smith that an estimated of about 80% of plumbing advice is not accurate and there for costly to the UK and the economy. It may sound that getting your plumbing inspected can save plenty of money in the near and further future. Sometimes with the plumbing inspection report, it may be that you have copper pipe corrosion and can just require a clean up then solved or it may be a very slow un-noticeable leak that in 2-year will burst cause thousands of pound worth of damage.
Who Do I Call For Plumbing Advice
A question with most people is that 'who do I call for plumbing advice'. Do you call the plumber from the local paper who is cheap or do I call a reputable plumber who is more than likely going to have more experience.
The answer to the above when looking for plumbing advice is, in most cases you pay for what you get. As proven with the likes of trading standards, most complaint come from those who first start up there business working under stress. For the first 10-years of any company working as an emergency plumber or just doing general plumbing issues every day, it is an up-hill battle but will patience, the decent plumbers will gain from this later on in live.
Getting a cheap emergency plumber is not always a bad thing but very hard to come by. To find a decent qualified plumber at a low rate, you need to stop looking in advertisement and more word of mouth. To find a plumber with word of mouth, you have also got to see his work of quality. Let face it, if the cheap quality plumber was that easy to find the then it's most likely that he is going to be too busy.
If you are looking for plumbing advice then ask Martin Smith who has had over 20-years plumbing experience. Martin at the age of 16-years of age was thrown in to the deep end where he was forced to learn quick as his father was the boss of 30-plus plumbing engineers, at the age of 15 Martin was working weekends as well as being in school, working with his cousin Andrew Roberts who now works for a plumbing company known as Budget Maintenance. Martin had a driver taken on for him and was on hand to also give a hand if required. At 17-years of age and driving by himself, Martin found that he was taken care of other plumbers call-back with jobs that were done incorrectly so the experience was fast coming. Martin Smith is now 36 but also has plenty of years in front of him and possibly at the point of his eager age.
If your an emergency plumber and would like to be passed work from Martin Smith, then please visit the plumbing register. Any customers that would like some plumbing advice may generate a job sheet where we will send a plumbing engineer out. As we already have over 400 engineers registered, only the best get the chance to be passed the job, however there are chance to get up the ladder and be noticed.