Plumbing Pipes History & Current Standards
Ever wondered on the evolution of the plumbing pipes history and how far we have come since the 1600's, where the wooden pipes were first introduce in London. Ever wondered what it would of been like to call an emergency plumber london in those days and if there was any such meaning of an emergency plumber.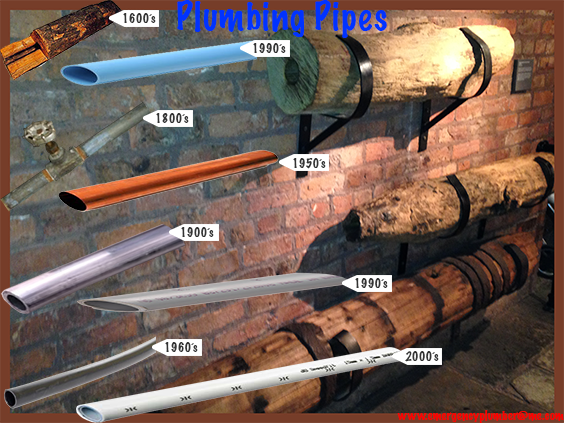 In the early days of plumbing, a plumber use to work with lead mostly. Lead was great for cutting and the running of water, but it was also good for roofing and other jobs involving lead. As the plumber evolved and so did other materials such as Galvanised Steel Pipe, Lead Pipe as we know it today, Black MDPE, but then replaced by Blue MDPE to identify, what the plumbing pipe was used for.
Once they realised that lead plumbing pipes were no good for you, they replaced it to copper plumbing pipes. Copper has been the most used plumbing pipe today, but is also getting more expensive as the years pass. Inventors got board with the only pipe regarded as copper on the market, so then came up with an alternative and much quicker way of fitting pipes and this is where the grey Hep 2o came along. Since the year 2000, there was a new competitor that had come along known as, the John Guest Speedfit, as also used with NASA. The speed fit range of plumbing pipe is still today the most reliable plumbing pipe on the market. There are always new pipes coming to the market, that keeps competing, in order to gain the name as the most reliable plumbing pipes on the market such as, the new flexible metal plastic pipe made by Tectite.
Right through the 1900's plumbing pipes was rather straight forward and all was required was the skill of soldering pipework. Every toilet, every bath and all basins, were very basic and the skill for plumbing was pretty straight forward. In the late 1990's plumbing pipes to baths, basins and toilets started to get a little more difficult and to some plumbers it was found too hard to carry on and was left to those plumbers who like to take on the more difficult plumbing jobs. Today it will take a plumber about 2 years to qualify as a plumber with at least some plumbing experience. The difference between today's plumbing pipes and yesterday's plumbing is that you have to read more instructions more often and is always best left to experience plumbers. With the internet about and so much information, if you want to become a really good plumber, you have to have a massive interest for the way plumbing pipes have evolved as where it may be in the next 50-years time. By continuing to follow our articles, you will be able to keep up to date with he latest technology in plumbing pipes and always remember your history. If you have any interesting facts about the plumbing pipes history, then please let us know by sending us an email, so that we can make any future changes.