Temporary Stop Water Leak By Using The Leak Mate Tools On 10,15 & 22mm Pipe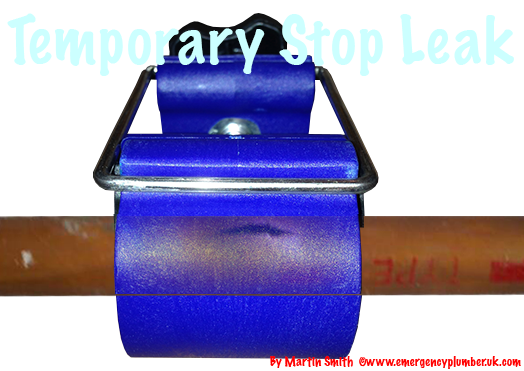 Would you like to temporary stop water leak by using the Emergency Stop Leak by Leak Mate tool. Here we have a great tool that works on stopping leaks, even before you start to make the repair, so your able to limit the amount of damage. Maybe you want to come back the next day and also keep the water supply on  for the occupants. The temporary stop water leak by Leak Mate that will temporary stop leaks, can be used on 10, 15 & 22mm pipe that has a hole or is leaking from a solder joint. If your a plumber fitting a central heating system and once the central heating has been filled up to check all joints, most of your plumbers or emergency plumbing specialist I know have come across a joint that has been forgotten about and all of a sudden you have water leaking everywhere and what do you do? You Panic.
Most emergency plumbers don't like to admit they have just fitted a central heating system and left a soldered pipe without soldering it. Maybe it was the apprentice plumber, easy excuse when telling the customer, why they have water marks on the ceiling, but with the emergency stop leak mate tool, you don't have to tell the customer, as there will be no marks, as long as you use the tool accordingly and not place it somewhere in the vehicle, where it can't be found. Temporary stop water leaking is always the best option.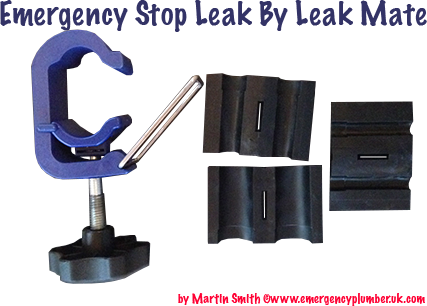 Leak mate comes in very useful, when pipes also freeze and split, specially in the cold Winters and the stop valve in the home are unable to be turned off. If an emergency plumber carries this emergency plumbing tool and places it over the pipe that is spraying out, then he/she can place this over the split pipe and stop the water leak, well the emergency plumber decides on the next strategy, without there being any further damage.
Once the emergency plumber has temporary stop leak and has drained the water, whether or not it is the central heating or the cold or hot water feed, then the emergency stop leak – leak mate can come off and can be re-used again on the next plumbing emergency and so many after that. Martin Smith an experience emergency plumber who now owns one of these emergency plumbing tools, explains how glad he is just to have the Leak Mate due to the amount of leaks he has been on, that required this type of emergency plumbing tool.
What tests have been done on the leak mate to know if this is a great tool?
Leak mate has been tested on pipe up to 20-bar and has still not leaked. Any further water pressure test with the Leak Mate tool past 20-bar is unknown, as the test has not been taken any further as not necessary.
Who is the leak mate for?
The temporary stop leak – Leak mate is for DIY plumbers, kitchen & bathroom fitter, carpet fitters, plasterers, decorators, builders and electricians. Why! As this tool is a temporary water leak fix, then this can be a make do, well they wait for the emergency plumber, saving the cost to the damage that may occur. An emergency plumber can also buy this plumbing tool, as there are so many customers, that would prefer to stop the leak first, then have the damage solved immediately or at a further date to be booked in. If your an oil engineer, that every so often comes to an oil leak, then again this is a emergency plumbing tools saving a large amount of money.
How does the leak mate work?
The emergency stop leak by Leak Mate works by placing a rubber over the hole of the copper pipe or any other similar pipe and the clamp around the rubber, then tighten, but don't forget the clip is in place as instructed by the instructions. Just below we have included a video of the leak mate tools.
How much does the leak mate cost to buy and where can I buy the leak mate?
So if your looking to temporary stop leak and buy the Leak Mate tool, it will cost between £12 to £30 depending on where you buy the product, however if you search online, using the keyword 'buy leak mate', you will find a company called the trade counter, who sell this product for £10.99, however we have never bought anything from there before. Our recommendation would be to buy the tool from BES, a website that has a great record in delivery and sells the product for £14.11 + VAT, but you will have to spend a certain amount to get free delivery.
If your an emergency plumber then please take a look at our plumbing register but if your not and your in an emergency situation and require a plumber to temporary stop leak and fix, then please give us a call and we recommend you an emergency plumbing engineer to you within 30 to 90-minutes.