When using compression should I be using PTFE
When it comes to plumbing it is always good advice to listen to emergency plumbers, especially when it comes to PTFE and compression fittings. The one tell tale sign of either a builder or a DIY plumber for when it comes to plumbing, when it comes to requiring an emergency plumber, due to a job incorrectly done from someone who is not qualified or has enough experience, when it come to plumbing, is found to be in compression fittings most of the time. Just below in the next paragraph will explain how not to fit a compression fitting with PTFE.
How not to fit a compression fitting with PTFE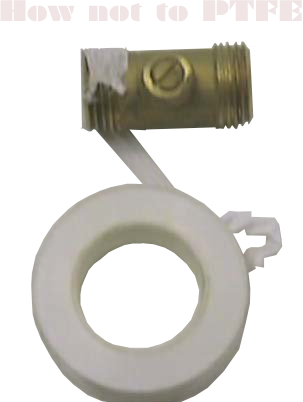 The first thing that DIY emergency plumbers do when cutting a 15mm pipe and fitting a compression straight, bend or tee piece it put the nut on followed by the olive.
Once the nut and the olive is on the 15mm pipe for some reason the PTFE goes on the thread and then placed on the 15mm pipe. Once in place then the nut is then tightened onto the thread that has PTFE on the compression fitting and is tightened up either using a spanner or some sort of grips.
Here is what Martin an emergency plumber has to say "the amount of leaks I have found in the past maybe because the local builder, kitchen fitter or any other type of DIY plumber has decided to do it themself to save money rather than call a local plumber. It is not a surprise to find that more than 50% of DIY plumbers will use PTFE on a compression fitting which is a reason that a DIY plumber in most case should not be trusted" in the next paragraph it will explain how PTFE should be used with compression fittings.
How to fit a compression fitting to a 15mm copper pipe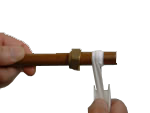 Get a 15mm piece of copper pipe and make sure to cut it to the correct size.
Get the 15mm compression fitting whether it is a tee, bend or a straight
Without undoing the nut it is too be place fully over the 15mm pipe (It may be a good idea to have a black marker pen to mark the 15mm pipe knowing how far the 15mm compression fitting is on the pipe.
Tighten up the nut using two reliable pair of grips and not a spanner to make sure that the compression fitting is tight enough.
Only experienced emergency plumbers will knows how tight the compression fitting should be but as a little hint once the olive has griped the 15ml pipe then there should be no more than 1 full turn.
When should I use PTFE when it comes to the compression fitting
If the pipe and the compression fitting is new, then there should be no need for PTFE. PTFE is only good to put on the olive but only if the olive has been in use before and there is a slight weep on the fitting. An experience plumber will know when to use PTFE and when not to need it, but if you require one of our emergency plumbers to take care of this, then please give us a call on 07510814311 and we will get a plumbing engineer out to you.