15mm Metal Pipe In My Central Heating System
Have you got metal pipe in your central heating system? Maybe you have a water leak coming from your 15mm pipes made out of metal. Martin Smith an experience emergency plumber explains everything you need to know about the 15mm metal pipe you have within the central heating system.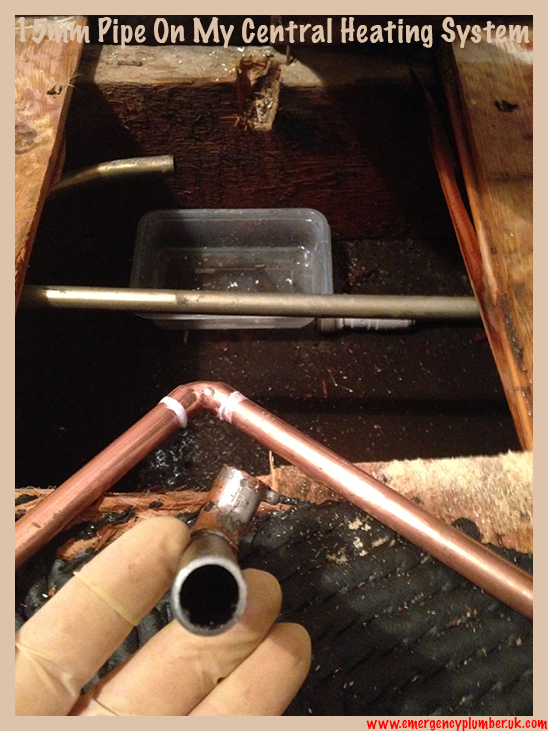 If you have 15mm metal pipe in your central heating system, then this would of been due to a shortage of copper pipe. As occupants were looking to keep warm in there home, there had to be a way to get warmth to the radiators. The only option would of been to use a cheaper metal and this was where the 15mm metal pipe came in to it. Once the second world war was over, it took a little time for plumbing to get back to normal.
If your home was built in the late 1940's or 1950's and the original plumbing is still existing, then there is a high likeliness that you may come across cheaper plumbing. The problem with cheaper plumbing was that the fitting of the plumbing was not reliable and very difficult to plumb in to the central heating, but also came with consequences. For those plumbing system that made the grade, became difficult to repair and there would need fittings such as compression. As shown in the picture, this is a typical repair that Martin Smith an emergency plumber repaired and managed to use push fit fitting with no hassle at all. There were no leaks and the system was working sound and ready to go again. There was no way Martin was going to attempt soldering, as the solder is more difficult to repair, it was common sense to use fittings that was not made as difficult. Due to the experience Martin has with plumbing, there was only one solution. Either compression or push fit fitting. Once the push fit fitting were attached, then the use of solder fitting would then be used to complete the repair to the radiators.
15mm metal pipe would of been around for an estimated time of 10-year when it came to the plumbing industry when world war 2 was about. When copper first came out, it was regarded expensive, but another 10-years down the line, the cost of copper, would of been a lot lower until the 2nd world war. Copper became very expensive and hard to come by, after the 2nd world war, copper then made it's come back into the plumbing industry, but still at a high price in comparisons to what home owners could afford. In the late 70's there was a boom of central heating and copper was to become cheaper in comparisons to copper today. In 2009, the cost of copper was to become more expensive due to the rise in cost and was rising quicker than inflation at a rate estimated at 10% or more. Due to the cost of copper and the new generation of plastic, copper is not used as much.
If your an emergency plumber attending an emergency plumbing situation where there is metal pipe, then you will be able to explain where and why 15mm metal pipe was about and why it is also difficult to work with. It is also important that you also know how to work with the 15mm metal pipe so that the customer does not expect miracles, but also have a full understanding of the fittings. Once the plumbing emergency has been resolved, then it is time to advice the customer an upgrade to the plumbing to save on any future complications.
Martin Smith is still looking for further information on 15mm Metal Pipe, so if anyone can help out on this, then please send us an email to emergencyplumber@me.com
If your a customer/occupant requiring an emergency plumber, then feel free to give us a call and we will recommend a plumbing engineer to you in an emergency. If your a plumber and would like to register on our database, then please send us an email.
A similar article to this would be to read is Emergency Solder Fittings.