Emergency Burst Lead Pipe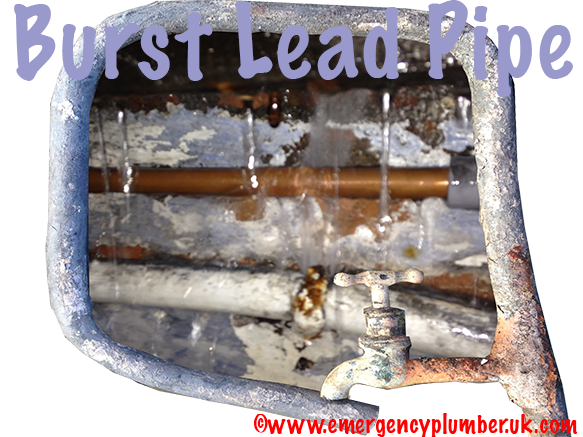 Have you got a burst lead Pipe and in need on an emergency plumber and wondering what steps to take and once the plumbing engineer arrive on what to expect. Here we have an example of an emergency burst lead pipe that Martin Smith attended. Lucky for this plumbing emergency it was easily excessible. In most cases, an emergency plumber will not be so lucky where the lead pipe will most probable be berried underneath the ground or in the wall.
I have a burst lead pipe, what can I do
If you find you have a burst lead pipe but don't know what to do, the first thing is to turn the mains water stopcock of either in the house or in the mains road. Unfortunately this type of job is out of the hand of a DIY plumber and must be left with the professionals if you know what is best for you.



Having a burst pipe in most case is a job for the emergency plumbing engineer as the flow of water is not a weep but more of a high pressure flow of water going through a pin hole or more. A leaking or burst lead pipe can be brought on by either a slight earth quake, a construction site near by, builders working in the house, a sudden rise in the water pressure, the lead pipe being knocked  or just a simple week spot in the lead just waiting to pop.
A common problem with lead is that once you have a burst lead pipe, it becomes a serious issue and may cost plenty in plumbing materials as well as a hefty bill when it comes to the emergency plumbing repair. However the job must be dealt with and dealt with properly in a very professional manner. Not all plumbers may know the rules and regulations to a plumbing emergency when it comes to lead pipe, due to the amount of awareness it is very important to make sure the emergency plumber that is attending the burst lead pipe that he also knows what he is doing.
If a plumber turns up to a plumbing emergency involving lead pipe, it then involve making a repair. Some plumber seem to think that when it involves a burst lead pipe repair then they will only turn off the water. This is incorrect as stated in the regulations of lead pipe 1992. This means that you are not allowed to add any further lead or lead solder to the pipeline. The minimum requirements when replacing lead is a meter, however if a meter is unattainable, then you are required to cut as much aways as possible.
When using fitting's, it is very important that the correct fitting are used in order to make sure you get the best repair there is. If in doubt of what lead pipe fittings you require then always use a lead lock. When the plumber arrives to fix the burst lead pipe then the type of lead locks he should carry are 5, 6, 7, 8 and 9 pound lead locks as stated in the lead pipe materials and there requirements.
If your a customer and would like us to send an emergency plumber for your burst lead pipe then please give us a call and we will make some recommendations. If your a fully qualified plumbing engineer with plenty of experience then please send us an email so we can get you on our database of plumbing engineers.
Please be aware that on the 25th December 2013 that the regulations state that due to targets by the government, the amount of lead in the water should be no more than 10 micro grammes per lead to 1 litre of water. Sounds a lot but this is the equivalent to 1 part lead in every 100,000,00 parts of water. Before the 25th the regulations state 25 micro grammes per litre.
Here are some other useful links similar to lead pipe