I've Drilled Through The Lead Gas Pipe, What Should I Do Now And What Should I Expect?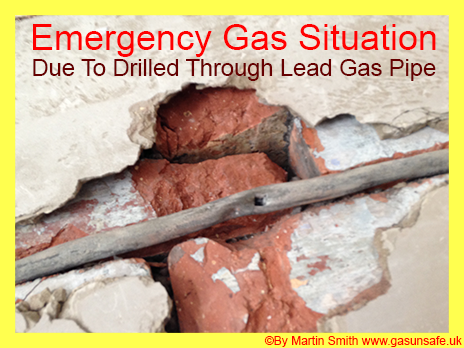 Martin Smith an emergency gas engineer explains what should be done if you drill through a lead gas pipe and what you shouldn't do.
If you've drilled through the lead gas pipe and your on the internet at the same time, immediately turn all the electric off including the computer unless your outside or have already follow emergency procedures by calling a competent gas advisor. If you've not called a gas advisor in an emergency gas situation, then follow these simple instructions by the emergency gas situation link.
You may notice in the picture of a lead gas pipe that has been drilled above, this was an emergency gas situation Martin Smith had received but also dealt with. Drilling through a lead gas pipe can be a very expensive situation as the latest regulation in the gas safe industry state that there is to be no repairs to lead pipe and must be removed. It is noted the average cost to a customer is about £400 to £500 as new pipework has to be installed to current standards.
What should I expect when drilling into a lead gas pipe
Martin Smith has experience plenty of customers either drilling or putting a nail through a gas pipe, however, has never been there or put a nail through the gas pipe himself. The stories are that there is an immediate smell of gas that becomes very strong, plus a noise the same as if your letting gas through the cooker hotplate. As the immediate impacted of the drill or nail doesn't mix the gas to air of between 5 to 15%, your most likely not going to get an ignition but it is very important to follow gas safe situation procedure.
Once the drill bit or the nail is inside the lead gas pipe, what should I do?
If you put a drill or a nail through the gas pipe, the best thing to do if you can help it is to leave it in there as it minimises the amount of gas leaking out of the pipe but at the same time it is very important to follow all gas safety procedures.
In most cases, once a competent gas engineer comes out to make a repair on a lead gas pipe in an emergency, the most likely situation is that the gas meter is going to be capped off and a price will be given to take out all the lead pipe and replace with copper pipe. This means if your in the middle of Winter or any other time of the year, you will have no central heating unless you have other ways of heating the home.
If your a customer that has drilled into the gas pipe and require an emergency gas engineer to attend then please give us a call and we will get an engineer to you in an emergency. If your a gas engineer and would like to become one of our recommend engineers then please register your details at our plumbing register.