Ideal Isar Problems & Cures On HE24, 30, 35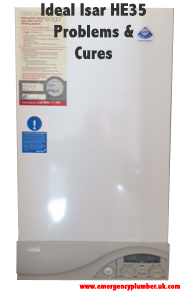 Have you got an Ideal Isar problems on HE24, 30, 35 and your looking for a cure. Looking for the right information without breaking any laws, then your in the right place. Martin Smith an emergency plumber and a qualified emergency gas engineer in Bury explains everything you may need to know from a leaking boiler to a boiler fault. Just below are the main topics we are going to cover on the Ideal Isar Combination Boiler.
Leaking Ideal Isar Boiler?
No power to the boiler?
My Boiler has a fault, how much should I expect to spend?
How long does it take to repair a boiler leak?
Social questions asked and answerd about the Ideal Isar.
Leaking Ideal Isar Boiler HE35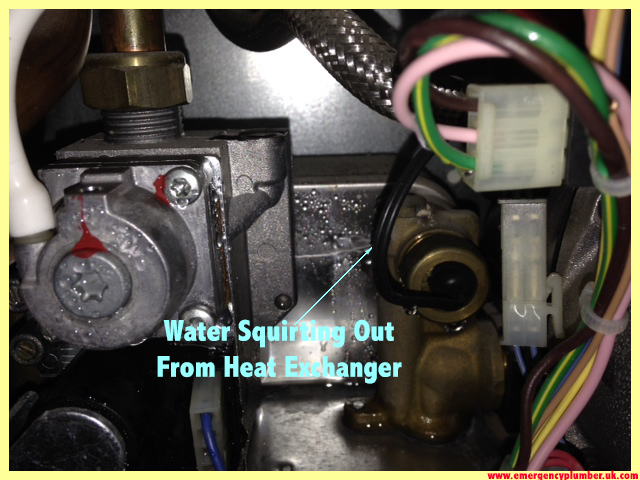 Just to the left is a typical leaking Ideal Isar problem for the Boiler HE35, these type of water leaks can happen any time where ever the ideal boiler is new or old. Fixing the leak can be a hard task and definately not for the DIY minded people. Most of the big problems when repairing a leak on the ideal Isar boiler is that you can also cause another leak without it being the fault of the emergency gas engineer trying to fix the leak.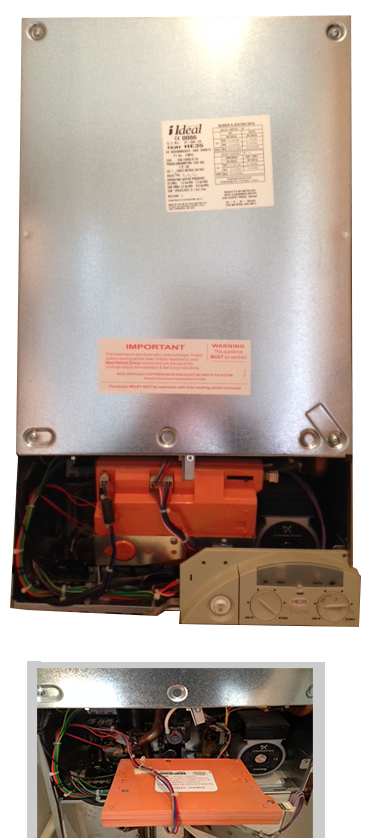 If the ideal Isar boiler is old, it may be time to replace it as the cost to fixing your current boiler may just not be worth it. If your lucky you may be able to get away with paying an estimated £100 to fix the leak on the boiler but may not always be so. If the boiler is leaking from the front end where it easy excessable to fix the leak, then you may be looking between £100 to £300 to repair the leak depending if you need parts or not.
Just to the right is a typical Ideal Isar problem Boiler. This is what the ideal isar looks like from the inside. It shows a central heating pump, the PCB (in orange). Most of the compents are in awkward areas. In Martin Smith's experience, the PCB can easily go and cost around a couple of hundred pound to just supply. The fitting of this type of boiler PCB is a bit more straight forward, however the diagnostic has to be done first to find out if the PCB is at fault. You will find that most engineers will carry a Ideal Isar Boiler PCB as they so commonly go.
My ideal Isar boiler isnt working as there is no central heating or no hot water, what can I do?
If you have no central heating or hot water on for Ideal Isar problems and you are looking to fix this before you decide to call out a boiler repair engineer. First you can check if there is power to the boiler at switch (A) in the on position and (0) display on the control. If there is no dispay of a (0) then this is not a combination boiler problem.
I have a L : F (flashing) on my Ideal Isar boiler, what does this mean?
 Sometimes this can be a gas supply problem which means you need to contact your gas supplier, but if you have a payment meter it is also adviced to check that you have money on the meter. To check if it is a gas problem, you can check another gas appliance to see if your getting any gas there.
Press reset button (D) for a couple of seconds, this will repeat ignition sequence.
If we are expecting cold whether, it is also good to check that the condensing pipe is not blocked outside and if so you may need to get rid of the ice. Tip: use a blow dryer if you have one. Sometime you may have a blockage problem which is due to bad installation, this advice may also be best by speaking to your local gas engineer.
My Ideal Isar boiler has a L : A flashing on my boiler, what can I do?
Press reset button (D) for 2 seconds then the boiler should relight. If the boiler doesn't relight then this could be due to your overheating conponents being at fault. You will need to contact a Gas Safe engineer to attend to the boiler problem.
It is also important to check if all your radiators have thermostats on them as this may be a cause of the problem as at least one radiator needs to be permanently circulating.
If your boiler has a H : B flashing, again as explained in the last paragraph, check if the radiators have thermostatic radiator valves and if so, you will need to call your local gas installer.
My Ideal Isar boiler has a H : A flashing, what can this be?
Check boiler has a minimum pressure of 1-bar as this may be what has triggered the safety device. If the pressure is below the 1-bar mark, then it is adviced that boiler will need repressuring by opening the filling loop which may either be attached or not. Once the pressure is at its desired pressure, this should reactivate the boiler, you will need to turn the ON/Off button to Off and then back on. (recommended boiler pressure of 1.5 bar).
If the boiler continues to drop pressure, this may be either the pressure valve that is at fault, where you will need a gas engineer to fix (visible water coming out of the pipe leading to the outside from the boiler) or there is a water leak on the central heating system.
The ideal Isar boiler will not fire up for central heating?
Check you thermostat is on at the highest position, this may activate your boiler, if not then this may be a thermostat problem causing the boiler not to call for heat. A diagnostic may have to be done in order to find out what the problem is with the Ideal Isar Boiler.
On my Ideal Isar boiler the display is showing D and I dont have taps running.
If you dont have any taps running and the display is showing a D. Then the cuase of this problem could be a dripping tap or a water leak within the hot water pipe.
Why is my Ideal Isa Boiler showing a T on my display, is there a problem?
If you are showing a T on the display then you will find this is normal, what happens is the boiler will optimise the hot water by firing every couple of minutes to heat the heat exchanger until correct levels of heat is achieved.
How much should I expect to spend on a faulty Ideal Isar Combination boiler
If you contact Ideal Isar, you should expect to spend about £300. This should include them replacing the PCB which they buy for about £20 from a foreign manufactured company, however if you buy from a parts centre you should expect to pay about the £200 trade mark which does not include the cost of the engineer supplying it at an additional 25%.
How long does it take to repair a boiler leak
No Power To My Ideal Isar Boiler problem
If you have no power to your Ideal Isar problem Boiler and your wondering if you either need an emergency gas engineer or an emergency electrician, it is always best if you carried a spare fuse and check the fuse within the switch spur. If you have no power to the switch then I would check the mains board to see if there are any electric mains has not tripped for any reason causing the Ideal Isar Boiler to not work then maybe call an electrician. If you have power to the boiler but the boiler isn't working, then you will need to call an emergency gas engineer that is a boiler specialist. In most cases, when a fuse spur has gone, there is a reason it has gone and the boiler may need a continuity test to try and find out what is causing this.
Here are some questions asked & answered by some of our social followers about the Ideal Isar problems
From @APS_GAS – Only one question, why hasn't it been changed for an Ideal logic with a 7 year warranty.
Answer from @plumber24hours – That would be a question directly for Ideal but one could suggest it may be a cost factor where cheap sells.
Reply from @APS_GAS – ?? I meant the isar is an old boiler, if your still using one its costing you money and it should of been upgraded by now
Answer from @plumber24hours – Do you think that it is due to the cost to the economy which is the reason they have not all been replaced?
From @goldlinegas -The Earth Pins require regular checking and often replacement. The earth pins distort, the insulation panels drop into the burners path and can melt the heat engine…ID
IF your a gas engineer and you have any answers or questions about the Ideal Isar problems then please join in the debate by the link at the bottom of this page. If your a gas engineer and would like to join our network of emergency gas engineers and confident to fix these type of Ideal Isar boiler problems, then please feel free to register at plumbing register.
If your a customer and would like to use our services and have any Ideal Isar boiler problems, then please give us a call on the above contact number 07720 247 247.  We are a national company with over 400 emergency plumbers and gas safe registered engineers that can come out to you within 30 to 90-minutes.