I am getting an F1 Fault on my Glow Worm boiler, what can I do?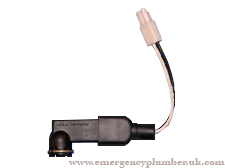 Got an f1 fault on a Glow Worm boiler then here is what Martin has to say an emergency plumber Bury. First of all we will give some questions customer are asking below then we will give you the answers.
Here is what some customer has to say. "My boiler is showing F1 Fault, I am not sure If this is my gas meter or the pressure but when looking up the fault it is coming up with a faulty ignition". Here is another question we have had from another customer. "My Glow Worm boiler seems to be more so in the winter, when I use my boiler it comes up with a f1 fault but unsure what this means, it seems to happen about 5 times in the winter but this winter it comes up with this about 6 time and we are only just in November".
As in most cases, the F1 fault is the ignition switch, which may be fixed by pressing the reset on the reset button. If you are unsure where the reset button then look it up in the manual as different model may have a reset button in different locations. In some cases you may find if you are on a payment meter then it is a good idea to check you have gas.
If you are still getting a fault then your most likely going to need a gas safe registered engineer rather than an emergency plumber where ever your from the Bury are or anywhere else in the UK. You can give Martin a call on 07510814311.
Other reason for a F1 Fault on a Glow Worm boiler
When getting a gas engineer out, the first thing you may want to get is a list of problem as some gas engineer just don't have a clue and will seek advice from the fault finding books. Other problems could be; the gas may need Purging, the Printed Circuit Board (PCB) has possibly gone. If you are lucky there may also be a loose wire, which may need tightening up.
How much would it cost to get a F1 Fault fixed?
To get an F1 fixed in most cases will cost the minimum of 1 hours labour but if it's not a simple problem then may need a diagnoses check which should also be done within the hour. If you require a new ignition then the cost of the part should come to an estimated £20. If it is found to be the PCB then you would be looking to pay out about £90 to £300 depending on which PCB model you require. The average PCB should cost about £120 but does not include any additional costs of the Fault Finding, engineers fee and the labour costs to fit the PCB. If requiring a new PCB you would expect to pay from the fault finding to the completion of the job on average £320 due to the PCB and the time it takes in the whole process.
Should I have anything else to worry about?
As gas engineers like to do the best and hopefully fix the problem them is always an element of worry. As there is work being done on the boiler, until the PCB is fixed you may not find any further problem and come with warning. Why did the PCB go in the first place, is there a leak or a loose wire causing the boiler to short circuit, if the boiler is have lots of problem then it may be time to upgrade the boiler but firstly when the engineer is doing the diagnosis it is always a good idea to ask him what he think and is it time to replace the boiler. In some case if you don't like immediate shocks then it may be a good idea to take protection out on the boiler, which may cost you about £17 per month depending on which company you take the protection out with.
If you are experiencing any boiler faults, the only diagnosis you can do when checking out a F1 fault on a Glow Worm boiler is check the reset or make sure you have gas, any other fault you will need the expertise of a gas safe register or you may be breaking the law. Please call Martin on 07510814311 who will get an engineer straight out to you and make sure you get the best service you require where ever you live in the UK.
Click here for any other Glow Worm Boiler Fault Codes.