Gas Engineer Number Plates – Vehicle Registrations – G45 ENG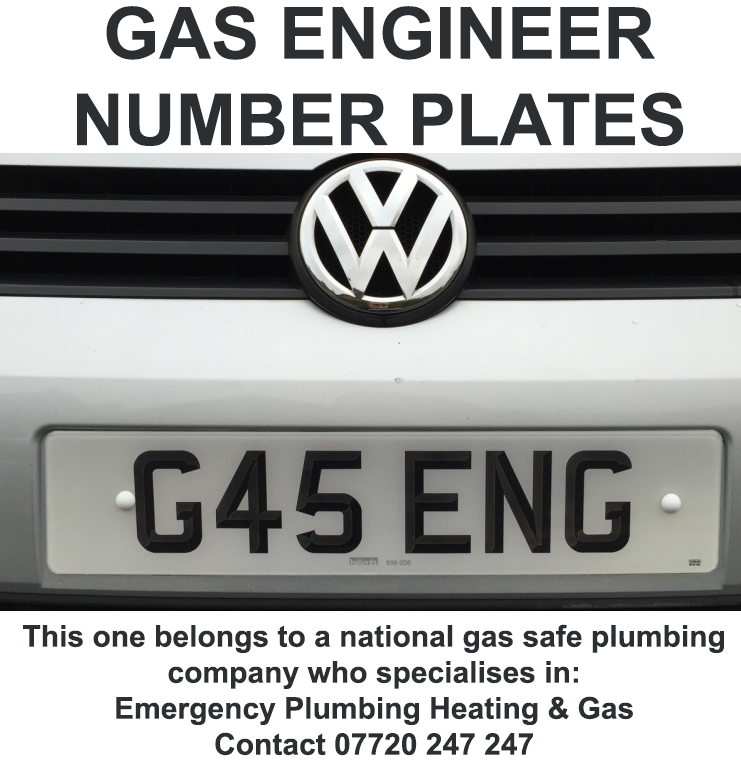 Ever thought of owning a private vehicle registration plate or maybe owning the gas engineer number plate just like the one Martin Smith owns for example: G45 ENG.
What this post is all about, is the process of buying a number plate to finding the number plate that suites you.
We will also be talking about some cool number vehicle registration plates for gas engineers that maybe available to buy or maybe already owned to give you an idea. Its not about plumbers, emergency plumbers, its about gas engineers.
Just below are a list of number plates already owned with there owners names also included. If you happen to land on this page and would like to be added then please let us know.
G45 ENG (Owned by Martin Smith)
GA5 5AFE (Owned by Mick Fletcher)
GA5 1EAK (Owned by Mick Fletcher)
GA5 2 DAY (Owned by Paul Lenton)
There are a few more that are not verified by there owners for this article which are listed just below:
GAS 15
GAS 2
9 GAS
BO11 LER
CA5 5AFE
M6 GAS
GA15 MAN
G45 5AFE
What is the process of buying a private vehicle registration plate for your  gas engineers van
When buying a private vehicle registration place you will first have to find the registration plate you are looking for of a reputable company if this is possible. Once you agree to a price then you are best getting it in writing by email or by post as long as it's record.
Once you have paid the money over then there will be a process of the registration going through where the current owner would have to fill in the V750 form either online or by post. This can then take up to 28-days to go through the process but has known to go through within 10 to 15-days.
The owner will then receive the documents in his own name with the new buyer as the nominee printed on the paperwork V750. It will them be the responsibility of the owner to send it to the new owner.
The buyer isn't classed as the owner until the new number plate has been transferred onto the vehicle. To transfer it onto the new vehicle, the nominee/buyer of the new number plate will have to fill in an online form. To find the form, you can visit google and type in 'put registration number vehicle'.
Once your get you correspondents by email, you can than then visit your local place that prints the number plates for you. i (Martin Smith) had got Halfords to do this but also fit it as well. To get this done you would either need the V5C form with the registration already on or you will need to take both the V5C which doesn't have the registration number on, the V750 plus the print from the email that is sent over.
Within about 5 working days of filling in the online form you should receive your new V5C registration back which you must keep safe.
What is the value of gas engineer number plates
When having a chat to some owners, they say the value of there personalises registration plates can start from £200 and cost anything up to £100,000 depending on the owner, if he/she is willing to sell and how much they can get for it.
They say a really good registration plate in the right hands can be worth more than if the registration plate was in the wrong hands. The value of G45 ENG Martin wouldn't like to say because the fact is, he doesn't want to sell it as it's apart of his companies image. For this reason, it may become very valuable.
What makes a good number plate a great number plate
A good number plate will get noticed but a great number plate will not only just get notice, it will be talked upon amongst many fellow gas engineers.
Martin Smith will not say the number plate he owns is a great number plate but will leave that to fellow gas engineers to judge this but what Martin can say is, G45 will stand for GAS and ENG will still for Engineers (G45 ENG), however some may get it mixed up with Gas England rather than Gas Engineers.
Martin Smith also offers fellow gas safe engineers the chance to join his plumbing register where you can gain work as long as you are a 24 hour emergency plumber or just a gas safe engineer.
As promised to the company that was to sell Martin Smith the registration plate, we would like to thank the Reg People.