Lost goods down the waste, should I call an emergency plumber?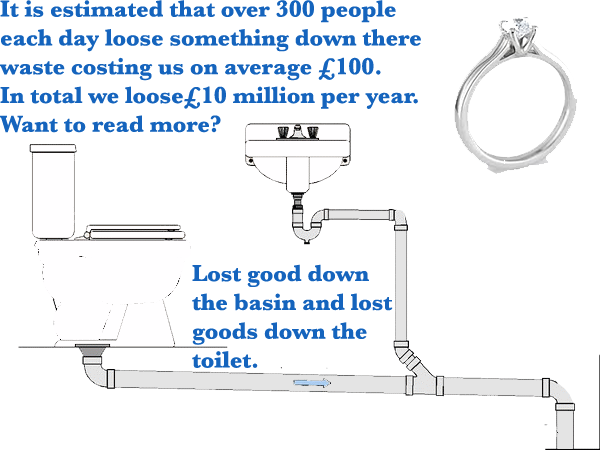 An emergency plumber in Bury explain about his experience with lost goods down the waste. "Have you ever lost an engagement ring or a wedding ring that happens to be loose but unsure where it went? I can explain I know alot of people that have lost an engagement, some in Bury but also plenty around the UK. We get at least 1 inquiry per month where someone has lost there ring down there toilet or in the sink well doing the dishes at home. It is so easy to loose goods down the waste it unreal, so we can just hope that you have insurance if there at any value. As a small national business we have estimate how many plumbing jobs per month that are classed as an emergency requiring an emergency plumber in Bury or anywhere else in the UK or the world come to think about it. The most expensive ring lost down the waste we believe was estimated at £3,000,000 and was never recovered.
It is also noted that at least 1 in 10 customers cancel the emergency plumber when on route because the customer manages to find the ring, they may of been in a panic or they had a go themselves to retrieve it from the waste. If you are suffering from having lost goods down the waste, before you decide to call an emergency plumber in Bury or anywhere else in the UK then please take a second to think. A must is 'do not let water down your waste' please follow this list of instructions:
Dont flush your toilet or run the sink, basin or any other type of waste.
Undo the waste or take the toilet away.
Open up the inspection chamber to the outside waste (you may need a plumber for this due to safety reasons).
Place a filter in the inspection chamber.
If you have un-done the waste but don't find the expensive goods then place back the trap.
Start to run the waste and flush the toilet.
If you don't see anything at this point, then you have no choice but to call an emergency plumber in Bury or anywhere else in the UK. Most emergency plumbers tend not to look for lost goods down the waste when they end up in the soil stack or the main drains, so you may have to call a CCTV specialist (Close Circuit Television Camera Specialist). The CCTV will search up the drain for any clues, but before calling a CCTV crew it is important to think, is it worth it, depending on how expensive the ring is and the chance of retrieving the ring as at this point you most likely going to have a 1 in 3 chance of retrieving it. The CCTV is estimated to cost between £200 to £500 pound for the day.
If you are looking for any further advice then please call Martin on 07510814311. Martin Smith will be able to get an emergency plumber in Bury or anywhere else in the UK as we are a national company for plumber UK.