Outside Plumbing Emergency Stock & Information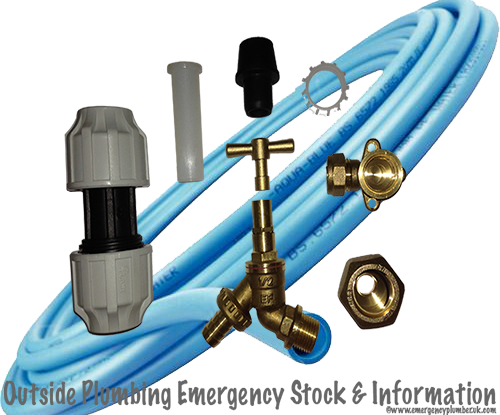 Have you got an outside plumbing emergency and require an emergency plumber or just looking to find out what sort of stock for the outside emergency plumbers should carry. In most cases you will find that an emergency plumber should at least carry a set of lead locks or MDPE fittings. There should never be an excuse like, 'I don't carry them sort of fitting on my van'. The problem is, there are so many companies out there that find they don't need to carry these sort of materials. If you don't specialise in emergencies plumbing then this is ok but otherwise you should always carry plumbing materials related to any outside plumbing emergencies.
Plumbing Materials for the outside
25ml MDPE straight x1.
25ml MDPE bend x1.
25ml MDPE to 22ml x1.
20ml MDPE straight x1.
20ml MDPE bend x1.
20ml MDPE to 15ml x1.
MDPE Inserts.
1 meter of MDPE pipe.
Set of lead lock fittings.
Bib Tap (non-return).
Back Plate.
15mm Lagging.
Weather proof silicone.
15mm Compression Blanks.
Information on outside plumbing materials & Tools
In some cases where you can not turn the water off but can at least get to the pipework, the best thing to do is to use a pipe squeezing kit well the repair is taking place. Once the clamp has been taken away then the water will be able to flow through as normal again. If you are unsure to what MDPE stands for then check out our 'What does MDPE stand' and all answers will be reveals there. In most cases when attending to an emergency plumbing job in the outside, you may also need a wet and dry vacuum, a spade and bucket, small or large Kango machine. You can buy small reliable kango's for about £60.
How do I fix a water leaking pipe under water
I will almost guarantee that most plumbers when working on an outside burst mains and there trying to fix the water leak. The plumber digs down, gets a bucket and throws the water as far as possible but as long as the water is not filling the hole up to quickly is may be an idea to use a wet and dry vacuum. If the hole is filling up to quickly then the only other way will be to high a pumping machine to suck the water out.
Can a qualified plumber replace old piping outside
When it comes to replacing the water mains outside of the property then this come a bit of a debate amongst most plumber when all they want to do is earn a living. A competent plumber can replace the pipe but being a competent plumber is not as easy as it seems. A plumber has to proof  his competence by showing the correct membership as the plumber would of taken a special exam to proof this before being classed as a competent plumber to replace the outside water mains so that the water board can come along and replace the outside mains stopcock. The only way a non-proven competent plumber can replace the outside pipe is by getting a separate competent person out to check the work that has been done which in most case can take about 4 weeks of completion.
Who do I call for an Outside Plumbing Emergency
When you have an outside plumbing emergency then please feel free to give Martin a call on the above number and we will recommend a local emergency plumber within your area who will attend to you in an emergency. If your a plumber then feel free to register on our plumbing register to be one of the recommended at www.plumbingregister.info.