Plumbing Injury Caused by emergency job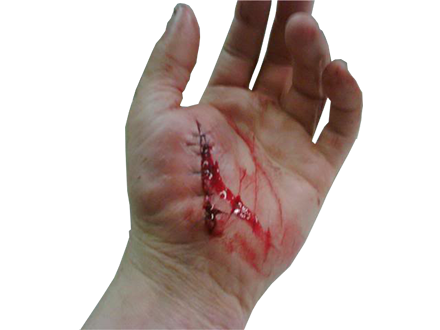 How many times this month has the average plumber been to a plumbing emergency and got a plumbing Injury. An emergency plumber in London is more than likely going to get injured at least once or more each month. The reason a plumbing engineer finds himself injured when coming away from the property is because the fact that the plumber has too much on his mind rather that caring about his health and well being. Some of the worse injuries are knocking there head on the sharp side of the attic door, cutting away with a stanley knife not realising that the stanley knife is facing the wrong way, crossing over the toilet that has broken segments that are extremely sharp, ladders collapsing from underneath well at a certain height.
Some of the smaller plumbing injuries an emergency plumber in London have found are, burning your hand on hot pipe not realising the time it needs to cool down, catching the end of the grips and pinching the skin, catching the knees on a nail well kneeling down to fix a pipe, hit your hand with a nail, all of which are very annoying, wishing you could go back 5-minutes and starting again. If anything, emergency plumbers are more known to this than any other profession so if doing a DIY at home could you imaging the amount of injuries that come about including the damage costs and the blood stain that arises just from trying to do the job yourself. If you live in London then need a good recommended plumber then it is a good idea to call Martin.
When doing plumbing emergencies, it is a very good idea to make sure that the plumber is very organised so that the point off stress does not arise, resulting in a plumbing injury. Even though emergency plumbers get there good name by going the job quickly, it is not alway the best way. To stop a plumbing injury the plumber needs to also take his time but not work too slow. Doing his not quickly but in a orderly fashion is the best way of staying away from getting an injury. A plumber that thinks more will also do a better job than a plumber trying to get the job done within the hour knowing that this is all he is going to get paid. If you require an emergency plumber in London the give us a call and we will get to your property in an efficient time which is about 30 to 90-minutes.