Latest Radiators has been released by Stelrad the best radiators you can buy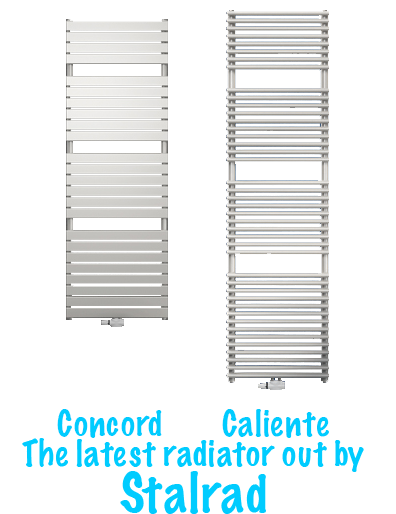 It has been reported in the plumbing news that the latest radiators made by Stalrad has been released and what a smart looking radiator it is. Stelrad already host the best radiators in the UK and possible in the world voted by most plumbers. These latest radiators that have been added to a collection of already stunning radiators are both of high quality and have been named Caliente and Concord.
The Caliente towel radiator was launched at  EcoBuild 2012, the radiator was names in a competition by a customer visiting the show and entering a competition. Caliente has quickly become a favourite designer radiator model. The Calient range come in single and double and will suit most bathrooms, shower rooms and wet rooms.
The Concord has also added a towel range extension to its range and has a different look with a flat tubing to look sleek which goes very with the style of the bathroom you require. The colour of the Caliente and the Concord range come as standard in white. Both radiator also come in a range of 35 different colours to suit your bathroom requirement depending on the colour scheme of the bathroom you are working on making the whole experience more exciting.
What size does the Stalrad Caliente or the Concord range come in?
The width size of both radiators start from 450mm and up to 750mm. The height of the radiators start from 755mm and go up to 2013mm. This means that the heat output as long as the central heating system is at the correct temperature will give 1327 to 7919 Btu/hr (389 to 2321 watts).
What are the guarantees on the Stelrad Caliente or the Concord range radiators?
The guarantee on the Stelrad Caliente and Concord radiators are 5 years as long as there bought from a reputable company and fitted within the guide lines. Both radiators have been tested up to 116 psi (8 bar) and is recommended to be fitted by experienced plumbers.



How much does it cost to buy a Stelrad Concord or Caliente towel rail?
To buy a Stelrad Concord or Caliente towel rail radiator the costs are as follows below.
The Caliente Rail Single ranges from £195 – £242.
The Caliente Rail Double ranges from £248 – £610.
The Concord Rail ranges from £220 – £459.
Prices vary according to height, length, watt, colour etc.
Where can I buy the Stelrad Caliente of Concord towel rail radiator?
The latest radiators by Stelrad will be available from major merchants in November 2013.
Please visit our page about 'What are the best radiator I can buy'.