Broken Toilet Emergency 24 hour Including Material List & Information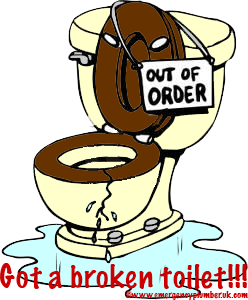 Have a broken toilet emergency and require an emergency plumber or just looking to check a list of Broken Toilet Materials then you have come to the right place. We include great information about the emergency broken toilet and a list of materials as shown below. If your a plumber visiting this page then you may want to keep a list or just book mark this page for when it comes to broken toilets and parts you may need in an emergency so that you won't need to return the next day. If you are a customer, you may want to check what an emergency plumber should keep as emergency plumbing stock on the van.
Emergency Broken Toilet Materials Stock Check List
Complete Selection of Emergency Washers.
Selection of back plates & Donut Washers.
7 to 8-Inch Toilet Syphon.
Toilet Hook Small, Mediam and Long.
Overflow.
Under Water Setting Silicone.
Toilet Handle.
Plastic toilet handle lever.
Open Flush Lever Syphon.
Range of Wing-nuts & screws.
Ball Type Float.
Adjustable Ball Type Float Valve.
Torbech Valves Bottom Entry Adjustable x2.
Torbech Valve Side Entry x1.
Speedfit Tap Connector.
15mm Speedfit Isolation Valve.
Water Spills Container.
Toilet Overflow Blank.
Selection of Multikwik Pan Connectors.
Narrow Toilet Float Operation Valve.
How to fix a broken toilet emergency or what to do
Got a broken toilet emergency and wondering on what to do. If you very inexperienced or don't have the correct materials or tools to go with it then the best thing to do is call an emergency plumber but if you are going to attempt it yourself then it is very important to make sure the water is off completely. If your emptying the toilet cistern then it may be a good idea that you have a wet & dry vacuum cleaner to suck up the remaining water left in the toilet cistern. The idea when fixing a broken toilet is that you do the job right or you may as well just leave it to a qualified emergency plumber. When replacing the toilet syphon you may need to replace the back plate and donut washer. When replace the backplate & donut washer, it is very important you get the right one or your most likely going to find yourself with another problem and a water leak on your hands.
What should I expect a plumber to carry for a broken toilet
When the plumber turns up it is most likely that your average plumber will not carry the materials for a broken toilet in an emergency so it's very important that you ask if the plumber is carrying the materials as list above. If your unable to find a reputable plumber then feel free to give us a call and we will then recommend a plumber to you. Please be aware if the toilet has a crack then the only thing that can be done is to turn the mains water stopcock off to the broken toilet and make save.