I have an F3 Fault Code on Glow Worm Boiler what can I do?
An F3 code on a Glow Worm Boiler is 'fan unable to reach ignition speed'. If you are getting the F3 code on your Glow Worm Boiler then, it could be the case that the fan is running but not at full speed. This can happen when there is a fault with mechanical side of the boiler or a temperamental loose wire. It is also known when in very cold conditions that; when the condensing pipe has frozen up and there is no way for the water to leave the air duct or the flue, there becomes a dampness where the water freezers up and stops the fan from running at full speed. In any case from any of these incidents, it is very important you call a specialist Gas Safe Registered Engineer rather than tackle the problem out your self.
I have an F3 Code on my Glow Worm Boiler should I call an emergency plumber?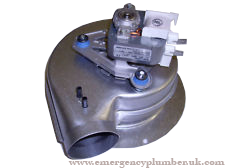 If your looking to get this fixed very quickly, in Martin's opinion it is a 50/50 but in some case you will require either a new valve or a special part. Before you decide to look for an emergency plumber to come and get the Glow Worm boiler working, then you need to ask yourself, can I get through until a more suitable time when the merchants are open or am I that desperate I need to take the chance and get an emergency plumber straight away.
If you have plenty of money, then it is a good idea to start looking for emergency plumbers, if you are struggling with what you have, then the best advice would be to go and buy some blow heaters, which you should be able to pick up for about £10 each or more. The areas we would advice you place the blow heater in are the living room and the sleeping area. You could possibly put one in your kitchen or any other area you may find yourself in allot. When calling an emergency plumber you will need to make sure the Gas Safe Registered plumber has ID to prove he/she is a competent to work on boiler so all safety is followed when taking on this type of task.
How much will it cost to get the F3 Fault fixed?
If you are looking to find out how much it would cost to get an F3 fault fixed then take a look in our Glow Worm F2 fan fault for all the information for what to expect to pay from a Gas Safe Registered Engineer.
If you would like one of our engineers to call then please call Martin on 07510814311. We aim to get an engineer out to you within the 30-minute however we do recommend 30 to 90-minutes.
For any other Glow Worm Boiler faults then visit Glow Worm Boiler Fault Finding Codes.