What Is A Gas Emergency Control Valve – Diary Day 2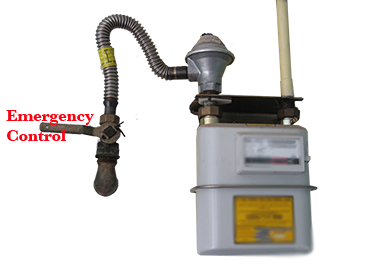 On day 2 Martin an emergency plumber explains what is a gas emergency control valve. Today I have been reading up on Gas Safety Legislation Content Part 1, which has given me plenty of knowledge when it comes to the gas meters and other stuff. What really came to my attention was the importance of what a gas emergency control valve is and how important it is for the customer to acknowledge the importance of an emergency situation. As shown in the picture, the Emergency Control valve is located in the horizontal position, which is turned off. When the gas flow is on, it is in the vertical position. When there is an emergency, the customer must have the key if located in a locked area in order to turn the gas off, in any gas leak emergency, so that the occupier can gain access in order to turn the Emergency Control off in the horizontal position.
Other stuff that came to mind other than the gas emergency control valve was the service pipe which was before the emergency control then the gas flexible hose followed by the gas regulator, gas meter and the installation pipework including gas fittings. It goes on about the Qualification and supervision, duty of the employer, regulators and much much more. It is so important to have a knowledge of the pipework going from the gas emergency control and up to the appliance. If you feel that you smell any type of gas or any related dangers, then the emergency valve needs turning off. Once you have turned off the emergency control then you need open all doors and window and contact the emergency gas board.
To read the Domestic Gas Safety On Site Guide Part 1/1 has taken Martin about 5 hours but also had time to write this blog. The next day Martin is going to concentrate on part 1/2 'Gas Emergency' so please tune in to Martin's diary day 3