What should I do in a gas leak emergency situation?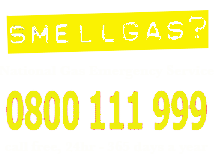 Sitting at home and find you smell gas, maybe it's not gas but you find yourself in a situation where you still need to take all precautions. Martin Smith an emergency plumber in wigan explains what you need to do in a gas emergency rather than trying to take matters in to your own hands.
Firstly you need to get to the emergency control valve as shown in the picture at what is a gas emergency control valve, turn the valve in to the horizontal position which is the opposite of vertical which will turn the valve off by pushing it as far as it will go. You should call the emergency gas board on 0800111999 where you will be put through to an operator.
Please don't ask questions on gas issues as the operator is only trained to talk you through the safety side and organising an engineer to get to your property ASAP. Just below are a listed of what the operator will talk you through.
Advice to consumers without prior contact of the emergency service
Do turn your gas off at the emergency control.
Do open all doors, windows and ventilate the property.
Do extinguish any type of ignition.
Do stay away from where the effected area or smell is noticed.
Do call/contact the emergency service to advice of current situation in a safe place i.e outside.
Do make sure access to property is accessible.
Do not operate switches (ON or OFF).
Do not smoke or use any type of ignition for example telephone, torch, candle and doorbell.
When an engineer from the emergency service (gas board) comes out he/she will do a gas check. If found all safe then keep the gas service on but if found to have a leak then will place a warning sign of do not use with more information depending on the situation. Once the engineer is happy with what he has done he will leave the property.
What will I need to do in the event my gas is turned off for safety reasons?
What you will need to do if your gas is turned off for safety reasons, is to arrange for an independent registered gas plumber to come out and fix what issue needs fix. The engineer that attends requires an ID card to prove he/she is competent gas engineer to take on the work in an orderly fashion. If you are unsure of who to get out then give Martin a call who is an emergency plumber in Wigan but also can take on anytime of work as we are a national company who will arrange for a fully registered gas safe engineer.