Copper Pipe Straightening Tool Information Inc All Tubes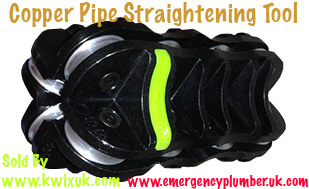 Welcome back to the new year and what better to start this of than the new tube & copper pipe straightening tool and the first of it's kind. Here we will explain everything you need to know about how to straighten copper pipe by using this great tool called the tube pipe straightening tool.
Why use a pipe straightening tool
The reason it is better to use the tube or copper pipe straightening tool is because, it leave the pipe more neater and easier to fit. As in most cases like before, the 10mm pipe was never meant to be on show with its non-abiltiy to keep straight when working on the central heating pipe when plumbing up to the radiator. But in most case we see it every as it's cheaper to use and quicker to use.
A straight pipe will also help with the flow and efficiency of the central heating water flow. It can be used for 4, 6,8 and 10mm but also in metric and imperial. All you need to do is straighten the copper pipe by hand and then feed through the tube and copper pipe straightening tool.
Where can I buy the tube and copper pipe straightening tool
You can buy the tool from KWIX UK and will cost you about £39.99 plus packaging and shipping at about £5.99
How long does it take to receive the pipe straightening tool
To receive the tube and copper pipe straightening tool we can only explain on personal record. Martin Smith an experience emergency plumber had purchased the product and it was delivered within 2-weeks. Before the product is send out and is paid for, you will be asked what size you require.
What else can the tube and copper pipe straighten tool do
Once the pipe has been straightened out, you may need to make bend for where ever the pipe is leading to. To help make the bending allot neater, you can use a pencil to make a straight line so that the pipework has guide to follow, this can be done by inserting the pipe through the side of the tool and inserting a pencil through where you would originally placed either the tube or copper into the tool.
Pipe Straightening Tool Reviews
Martin Smith an experience emergency plumber has tested the tool to see if it is capable of doing what it says it can. In Martin's view, it is a very good tool and would definitely use this in future and recommend it to other fellow central heating engineers alike. With this tube and copper pipe straightening tool, the professionals have just got more professional. Just below we have included a video to make your experience on what this remarkable tool can do.
Other information
If your a customer reading this and would like us to recommend you a plumbing engineer who has this tool to use in your home then give us a call and we will recommend the engineer to you directly. If your a plumber that would like to be recommend to customers using this tool, then please send us an email to emergencyplumber@me.com as we are looking to add 24-hour emergency plumbers to our database of UK engineers.